I started my jewellery adventure with Silver, working with Sterling Silver has been a wonderful thing and making rings is one of my favourite projects. In 2018 I registered my makers mark with the Edinburgh Assay office allowing me to make and sell hallmarked Jewellery. Since then I have added 9ct and 18ct Gold to my collection, including a growing range of handmade Gold Wedding rings.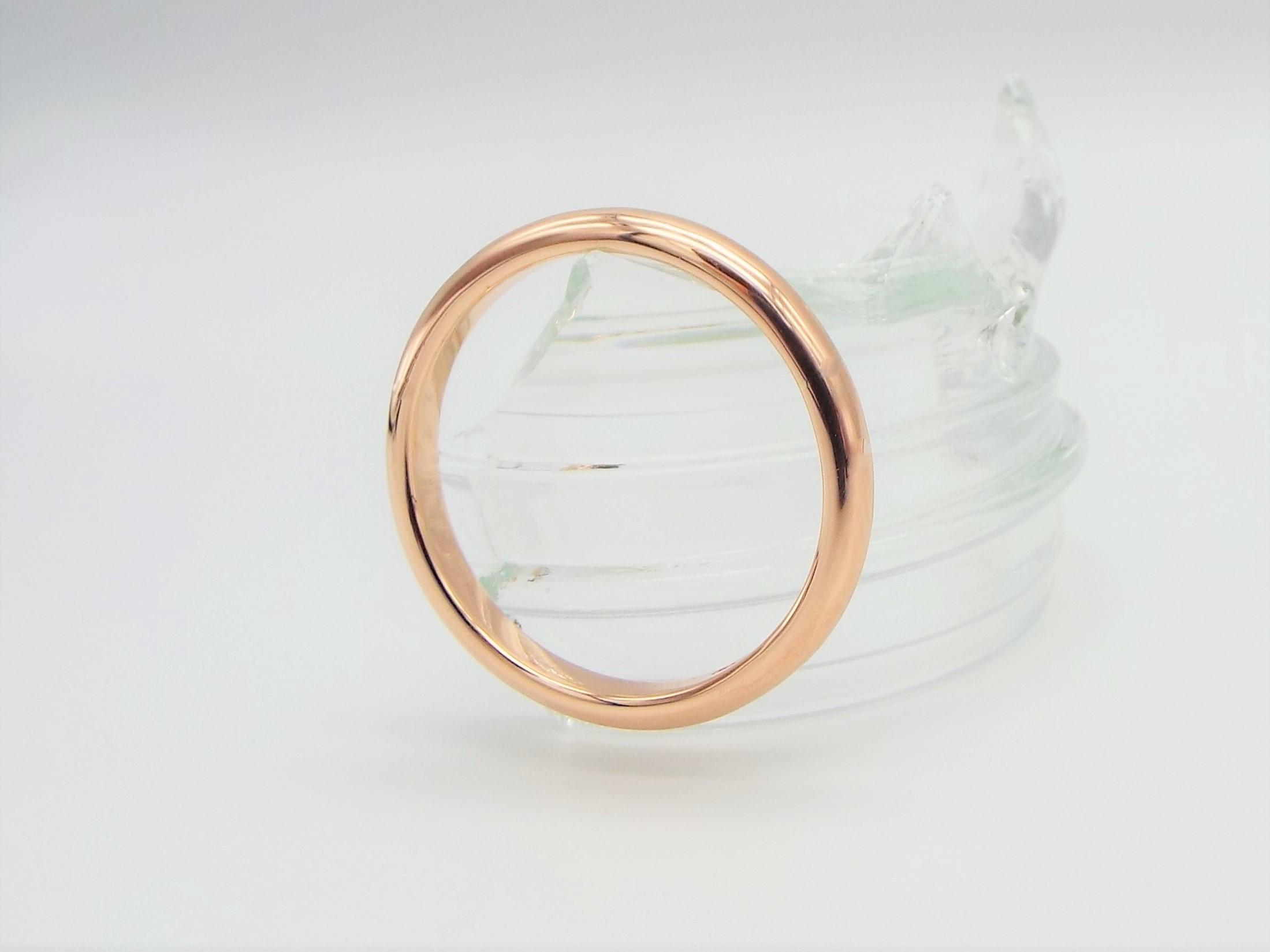 Classic D Shaped 9ct Rose Gold Ring
So what makes a Desirable Wedding Ring?
For many couples the Rings are one of the most important parts of the wedding ceremony. They symbolise a promise made to each other.
Durability
For most couples wearing their rings daily is part of their commitment to each other. Daily wear means the rings must be robust enough to stand up to daily wear and tear. How hard you are on your rings and how you care for them will also play a part in how long they will keep their shine and shape. A certain amount of light marks and scratches can be expected, however, a hammered finish may help disguise this somewhat.
Daily immersions in the washing up bowl is not recommended, neither is wearing your rings while swimming or using a hot tub. Certain chemicals can oxidise the metal very quickly and cause it to become porous and crack. Hot tub chemicals are notorious for causing irreparable damage even with a very short immersion time. Bleach turns Silver grey or black and even traces of nail varnish remover left on skin can start to effect the surface.
Silver is more reactive than Gold and will oxidise and discolour if it is not worn regularly, the oxidisation can be usually removed easily with a silver polishing cloth. For example, Rings put away for a few months before the wedding and not cleaned before the ceremony can result in black marks on the fingers, not a good look on the wedding day! I recommend cleaning and polishing silver and gold rings regularly with suitable polishing cloth.
Rings whether Silver or Gold are not indestructible. Common causes of damage can be caused by impact, regular hitting against a hard surface can lead to cracks or fractures, this is particularly common if the ring is slightly on the large side, getting the ring caught and twisted, stood on and squashed, the list goes on and on.
Being careful with and looking after your rings give them a better chance of lasting a life time.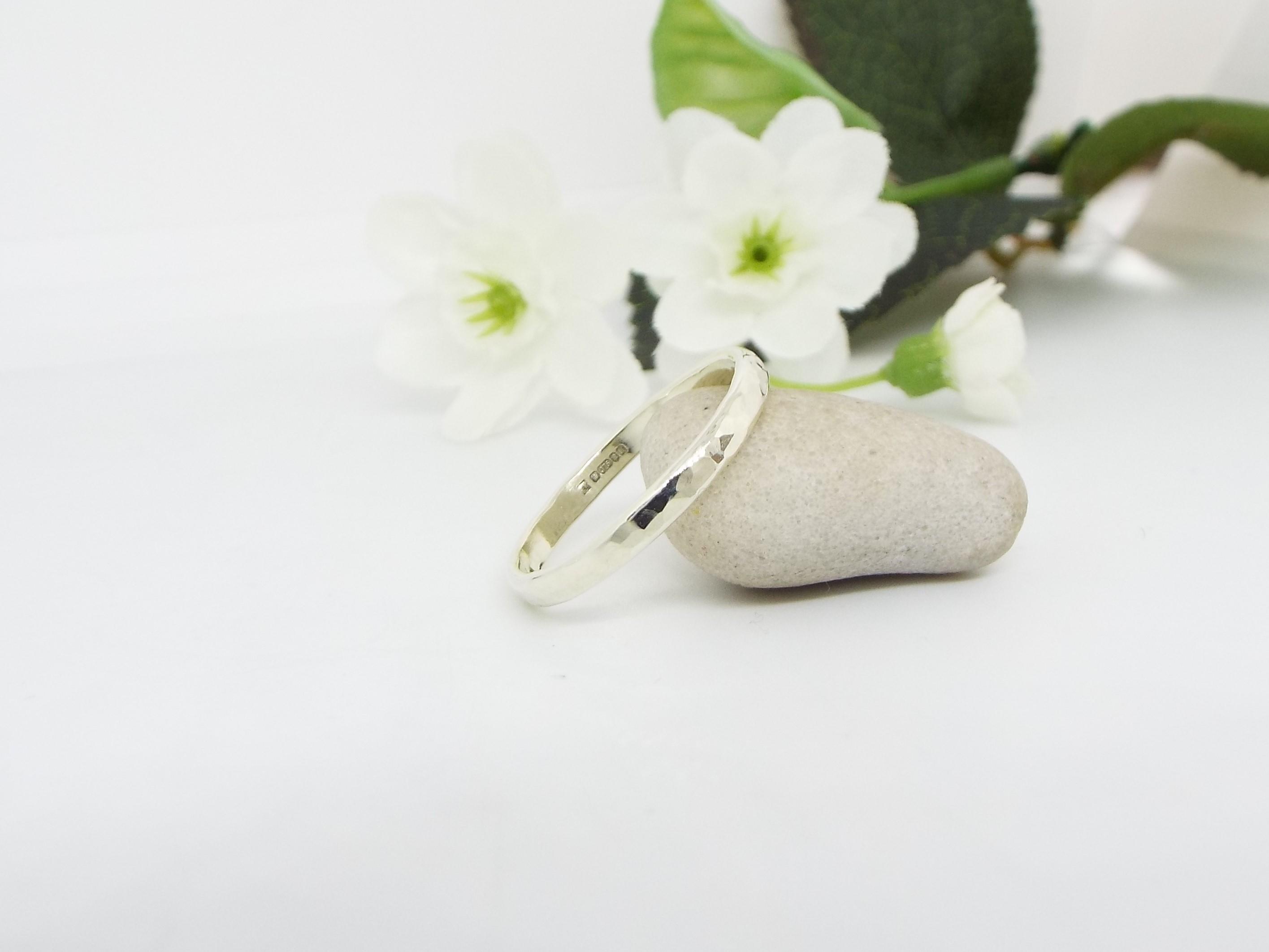 Hammered 9ct White Gold Wedding Ring
Matching an engagement ring
I often get asked if the wedding ring will fit neatly alongside an engagement ring. The answer depends on the style, shape and the height of the engagement ring. Large and Fancy engagement rings may need a custom shaped wedding band that is specifically designed to sit neatly along side it.
Another consideration is matching the metal, carat and colour. I make rings in 9ct Yellow, Rose and White Gold, Sterling Silver and Argentium Silver. If you like a silver colour metal but want something more durable, white gold might be an option but for a truer silver colour, platinum is a popular if somewhat expensive choice. The shape of the band is also a consideration, Flat, D shaped or rounded are a few of the choices.
Whether the wedding ring matches the engagement ring or not is a personal choice and it is worth thinking about how the rings will be worn after the wedding, will you wear both every day? Fancy engagement rings may not be practical for daily wear.
Another thing to think about is combining precious stones with the wedding band and skipping an engagement ring altogether. A sleek band with flush set Diamonds or Moissanite is a great way to add sparkle to every day wear.
Cost
This consideration should maybe be higher up the list, budgets may be set by many factors and how much to spend on a wedding ring is a personal choice. The cost of the rings may be a statement, whether expensive or frugal the choice is a very personal one.
Silver is much cheaper that Gold, the cost of a simple Silver 2mm band is £35, the same ring in 9ct Gold is £135. Platinum and Palladium rings can stretch to the £1000s.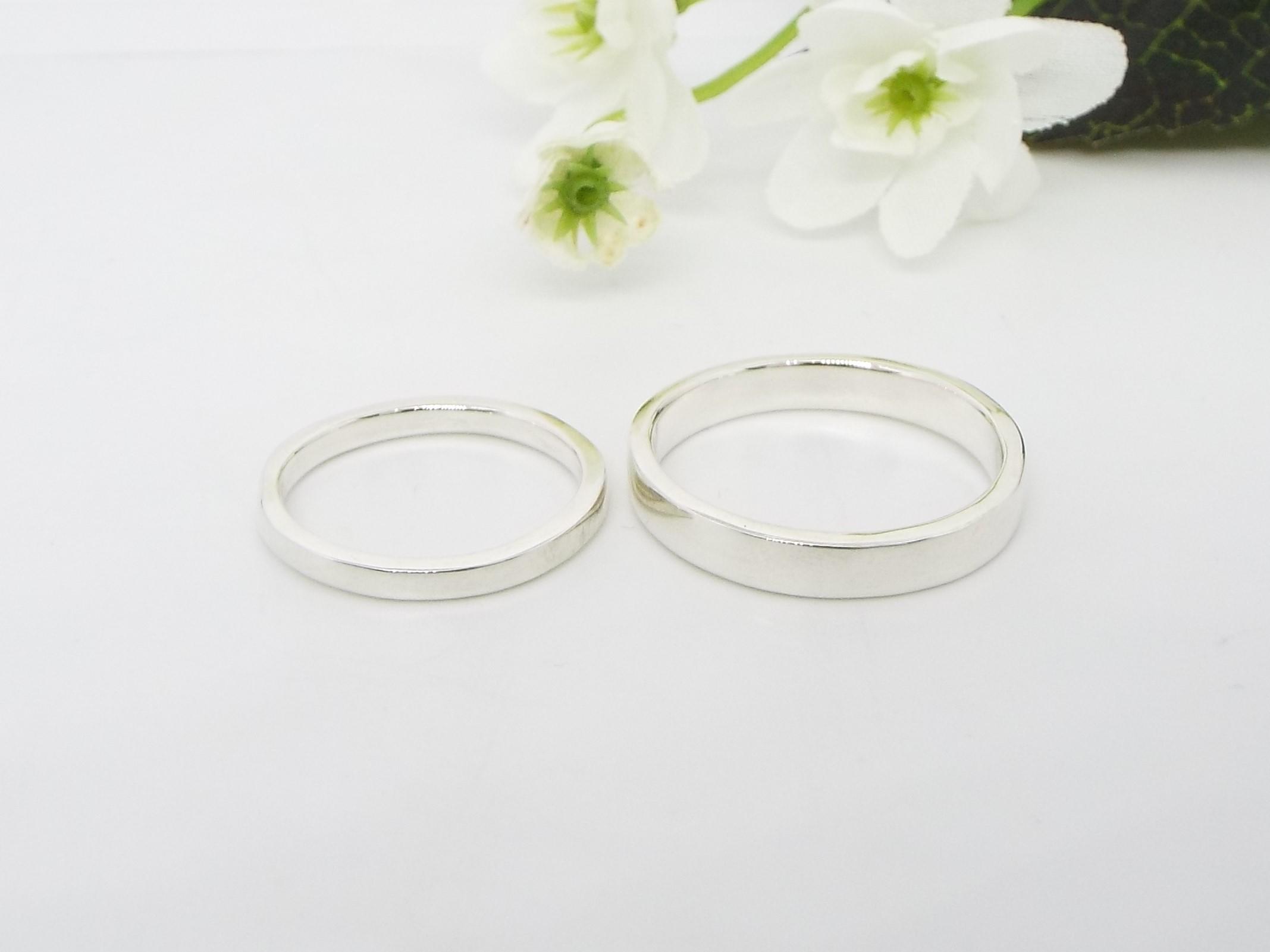 Flat profile matching rings in Sterling Silver
The width and depth of the band
The width and depth of the band is a key thing to think about. The width of the band refers to the dimension viewed from above on the finger. The depth is the dimension of the ring from the side. I am sometimes asked to make very delicate rings, these are gorgeous and may sit neatly beside an engagement ring but a very delicate ring will be at much greater risk of damage and wear. I let customers know that a very delicate ring may not stand the test of time.
This leads me to consider can a wedding ring can be replaced in time? it may become damaged or maybe a budget Silver ring is replaced with Gold or Gemstones added to celebrate an anniversary.
I personally have 3 or 4 rings that I have made for myself and wear since getting married. I go through phases of wanting to wear Silver, Gold, Gemstones or my original Palladium band (this has been resized from an O1/2 to a Q, my fingers never quite recovered from pregnancy! It also has a strip of recycled 9ct gold added to one edge)
Because all of my rings are made by hand it is possible to incorporate existing rings and stones and combine them into a new design.
In conclusion there is no easy answer, like many things in life the choice of a wedding band is a deeply personal choice.
If you are looking for the perfect ring and would like something handmade especially for you, I would love to hear from you.
Best wishes
Ellen